Digital textile printing is environmentally friendly, high-quality and speedy!
Digital textile printing is a progressive way to show your personality. As a digital fabric printing store in Surrey, we have completed hundreds of textile projects for our customers. We provide you with unparalleled customer service while working with your timeline, no matter if you have simple or complex designs and patterns.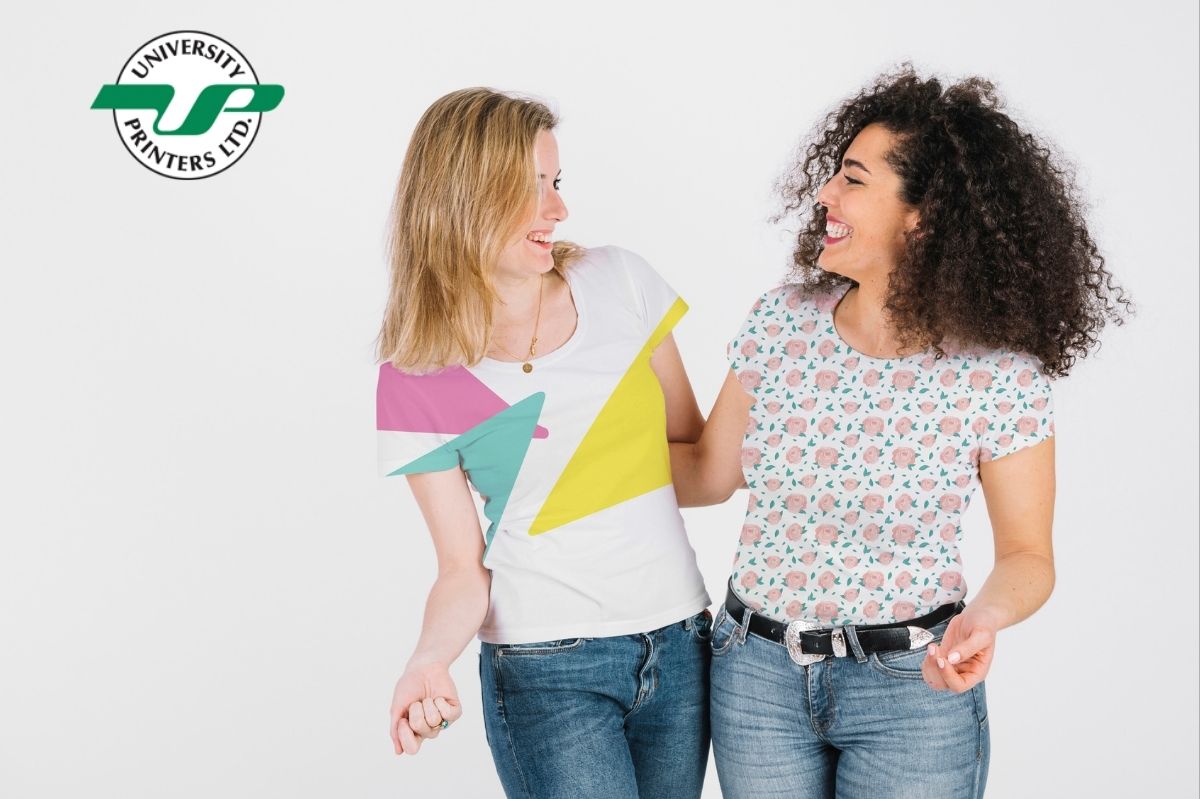 Along with our offset printing services in Abbotsford, we have continually provided Lower Mainland BC with digital printing services for the last 30 years. Gain the competitive edge on your competitors, or marvel at your own designs coming to life on a piece of fabric, while you learn more about digital textile printing with our shop!
Digital print technology is ever-changing, and at University Printers Ltd. we keep up with the latest technology. Whether you need your project tomorrow or a week from now, we will work with your deadline carefully to ensure you're fully satisfied!
How does digital printing work on clothes?
Digital textile printing is an ink-jet printing method that enables different designs to be printed on a large variety of fabrics. Though the process of textile printing is relatively fast, the quality will always be of the highest standards.
When you give us a digital data file with the desired picture or wording you would like printed, we use our resources to transform that digital file to life. The fabric is carefully coloured by ink droplets, while the print heads are positioned a few millimetres above the textile. Ta-dah, your project is printed and ready to be showcased to the world!
What are the advantages of textile printing?
High resolution on fine patterns
Short turnaround time (usually within 24 hours)
Less waste, as the ink droplets are strategically placed to cover only the spaces needed
Fits any budget, small or large
Lower carbon footprint, as digital textile printing uses reduced water and resources
What materials cannot be used in textile printing?
Just like any printing job, the material is one of the most important aspects of ensuring perfect quality. While digital textile printing allows for hundreds of materials to be used, there are some that just don't cut it. Due to the print heads that hold the ink droplets being so close to the surface, these materials have a high chance of becoming damaged:
Cotton. While this material is soft and cozy, it makes it difficult to print on. While not impossible, the threads in cotton material tend to get loose during the printing process. Not to worry, our team of experts can advise you on your best course of action with cotton, all while giving you the best results!
Polyester. Over the last couple of years, polyester has become prominent in clothing and accessories. However, the most common used ink for printing, disperse ink, does not work particularly well with high-speed digital printers. At University Printers, we can ensure that your polyester textile project will come out exactly as you'd hoped!
Silk. Due to silk being a natural fibre, the threads may become loose in the printing process. Also, because it has a highly refined surface, the printed image may not stick on as long as you'd hoped for.
The printing possibilities are endless. Now they're also on your clothes!
We offer fast, on-demand digital printing and short-run quick and cost-effective printing options.
Have a project in mind that involves textile printing? We're definitely the right people for the job!
Call us at (604) 533-0053 to get an affordable quote and experience top-notch resolution!